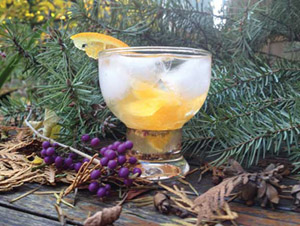 Ingredients:
Sugar cube
Splash of Becherovka
Orange segment (blood orange, if available)
2 oz. Hardware Distillery Aquavit
Ice
Splash of water
Directions:
Place the sugar cube on a tea plate. Cover the sugar cube with Becherovka and soak the sugar cube until softened. Place the sugar in the glass with the orange and muddle lightly, crushing the softened sugar, but lightly bruising the orange. Add ice and Hardware Distillery Aquavit. Top with a splash of water. Garnish with orange.