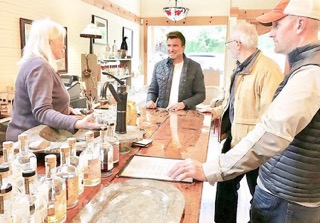 Segment with Hardware Distillery will not air this month.
The Travel Channel visited our little distillery on May 15. Jack Maxwell of the Booze Traveler spent the day with us, filming our distillery and helping us make a batch of HWY 101.
We were very excited to learn that we made it though post-production and the final cut. Jack's visit to the Distillery was going to air on the Booze Traveler Monday night, February 12, at 10 pm. That appearance was postponed. We will let you know when we know more.
We have not seen the episode, and have no idea how we will be presented. It is "Reality TV," and anything can happen.